Dr. Lorissa MacAllister recently published her latest Studying Spaces column "Resetting for post-pandemic occupancies" in Health Facilities Management Magazine detailing how to set your return to the office up for success. To dig into the topic a little deeper, we are sharing some key takeaways to keep in mind when returning to the office, and why they matter for your organization.
Due to the pandemic, the outlook for businesses has drastically changed. We have seen a devastating effect on the financial health of the world and the pandemic has caused the largest decline in spending since 1959 as stated by the Washington Post. This decline and shift of volume and services have created many industries, especially healthcare, to view things in a different light. According to AMN Healthcare, studies show that one of the highest portions of hospital spending is attributed to labor costs, making up 54% of total spending. As if the pandemic was not enough to influence the labor workforce, there is also a continual loss of labor with a noted $18M shortfall reported by the World Health Organization. Now more than ever, it is necessary to retain top talent and support them through this phase of transition and growth.
Technology-integrated meetings and remote work are here to stay. During the pandemic, we were forced to quickly adapt and identify how to conduct business from a distance. The use of technology and remote work will be a mainstay of the future and will need to be fully integrated into an organization's operations for optimal success. Not only will these practices have to be integrated in an organization, they are also preferred by staff. According to a recent survey by McKinsey & Co, over 60% of respondents desire a hybrid working environment post-pandemic, compared to only 38% pre-pandemic.
As an evidence-based design firm, Enviah always looks to the science to inform our strategies and business decisions. To make the transition back to the office successful, it is vital to work within your organizational system implementing Normalized Process Theory, which posits that technology in the workplace needs to be approached with cohesion, cognitive participation, collective action, and reflexive monitoring. We use this evidence to help establish the systems for success. The pandemic caused us to make a drastic shift in our work, literally overnight. We now need to move to normalize these work processes, like integrating technology into everyday practice.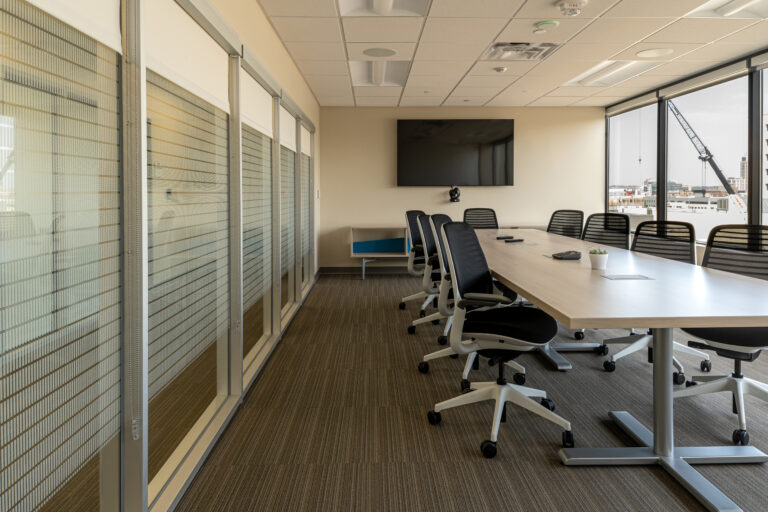 Key Takeaways
Focus on these four areas during the return to the office to normalize behaviors and create sustaining systems of success.
Organizing Structures: Laying the foundation for success.
Think through how people collaborate and work together.
The last year resulted in quite a few unknowns. Decisions and visions were fluid throughout the pandemic, as businesses could not foresee what the future would hold. To effectively bounce back, organizations must create a clear foundation of what the vision of the future looks like for their business. It is important to start with that clarity, so it becomes a guidepost and stabilizes the footing of future goals and efforts, moving away from the fluidity of the past. Focus on gaining an understanding of how people will be working in the future, allowing for adaptability and flexibility, and driven by their highest performance possible.
Coherence: Making sense of what you do.
Changing the way you view the roles of your staff and how they work will greatly affect your organization for the better.
Your staff may be experiencing operational cultural and systemic barriers that disrupt their ability to do their job effectively. Allow the team to acknowledge the barriers they face and collaborate to identify solutions to achieve the highest outcome for the business. Listen and create clarity of their roles and responsibilities and the tools and spaces they need to do their work. Work now happens everywhere, so it is important to focus on the tasks at hand and ensure the employee understands and makes sense of their new work and builds their new routine that benefits all.
Collective Action: Realigning for efficiency.
Adjusting your organizations' staff and facility will allow for the most efficient and productive return possible.
Allow for the realignment after the pandemic to catalyze change. As we continue to transform the way we work, it is important to push for alignment with the entire organization. While COVID-19 did not allow for a proper rollout of new operations, this next shift to the "new normal" must follow the proven model of a successful rollout of changes. Starting with initiation, enrollment, legitimization, and activation. Following these four steps will improve collaboration and coordination, both for staff members and outcomes for the organization. Investment in furniture, technology, and equipment will ensure fully seamless office work from in-person to virtual, improving overall productivity. Take the time to review the organizing structure that is needed to support the work how the teams work together and the need for collaborative work.
Reflective monitoring: Adjust the systems to support the needs of the team.
Ongoing assessment and adjustment are the way of the future.
As we normalize the new workspaces, we also need to be open to hear what can be improved. We will not always get it right the first time, therefore monitoring will be crucial at all levels of the system, collectively and individually. This could mean shedding spaces that are no longer needed or getting out of unnecessary leases and assuring that the invested properties give you the highest return possible and consolidate campuses.
Bottom line: It is vital for organizations to facilitate systemic implantation of your new "return to work program, and to be mindful that it is as much physically driven as it is both mentally and socially. Returning to "normal" does not need to be a light switch moment. Look to the research and scientific measures available to assure the changes you make are lasting and support your organization's future for success. Creating a supportive environment that elevates all to work at their optimum, as its people are the most valuable asset they possess. The new frontier is here to stay we it is your turn to write the chapter with thoughtful and impactful actions shedding the outdated office standards of every full-time employee receiving an office or workspace we are rewriting the playbook to assure organizational success.

Read Dr. MacAllister's full Health Facilities Management Magazine piece here.
References:
AMN Healthcare. (2021). Containing Hospital Labor Costs in the Era of COVID-19. https://www.amnhealthcare.com/uploadedFiles/MainSite/Pages/Campaigns/MSP-Containing-Hospital-Labor-Costs-White-Paper-2021%20v2.pdf
Carroll, N., & Conboy, K. (2020, December 1). Normalising the "new normal": Changing tech-driven work practices under pandemic time pressure. PubMed Central (PMC). https://www.ncbi.nlm.nih.gov/pmc/articles/PMC7358767/
de Smet, A., Dowling, B., Mysore, M., & Reich, A. (2021, July 9). It's time for leaders to get real about hybrid. McKinsey & Company. https://www.mckinsey.com/business-functions/organization/our-insights/its-time-for-leaders-to-get-real-about-hybrid?cid=app
Frankel, T. T. R. (2020, May 4). Historic financial decline hits doctors, dentists and hospitals — despite covid-19 — threatening overall economy. Washington Post. https://www.washingtonpost.com/business/2020/05/04/financial-distress-among-doctors-hospitals-despite-covid-19-weighs-heavily-economy/
Grady, C. (2021, January 31). The looming health-care crisis: A shortage of health workers would be disastrous. The Conversation. https://theconversation.com/the-looming-health-care-crisis-a-shortage-of-health-workers-would-be-disastrous-152709